Winmate Blog
Enhance Safety, Communication & Connectivity with Convertible Rugged Laptop
2022/02/25
PR Newswire reports that mobile technologies uptake in various industries has been increased, with the global rugged computer market projected to grow 4.92% to US$ 592.906 million by 2022. In the early 2010th, many companies that relied on field service and transportation started to recognize the value of a connected field workforce. The key is using the mobility rugged tablet and laptop, which offer portability, communications, and accessibility.
Accenture and IBM learned that companies open to computing technology innovation would gain a significant strategic advantage over the competition. However, some work environments pose destructive challenges for these computers. Hence, the commercial laptop used for office and home use cannot stand up to the rigors of industrial work. According to ARN, IDC research shows your average IT device has a failure rate of 15.7 percent, but rugged technology has a failure rate of only three percent.
Seamless communications from the field to the office
Industry-grade rugged laptops, such as the Winmate Rugged Laptop L140 series, come with many extended communications options, including GPS, WLAN, WWAN, BT, and many more. Those can help workers in remote locations be connected, allow real-time reporting and data collection, thus improving accuracy and speeds due to the elimination of paperwork.
Instant, reliable access to information in the field
Whether we are talking about documentation, safety procedures, or a remote machine control interface, workers need fast and easy access to critical information to get the job done, regardless of where they are. Commercial tablets and laptops can be a problem because their screens are unclear under the bright sun. But information on the Winmate Rugged Laptop remains visible thanks to its 700nit Sunlight Readable optically bonded screen. The information must also be quick to access, and this can be an issue for some rugged tablets, but not for a Winmate Tablet/Laptop. It features M.2 SSDs for high-performance storage up to 2 TB and USB Type-C for rapid data transfer.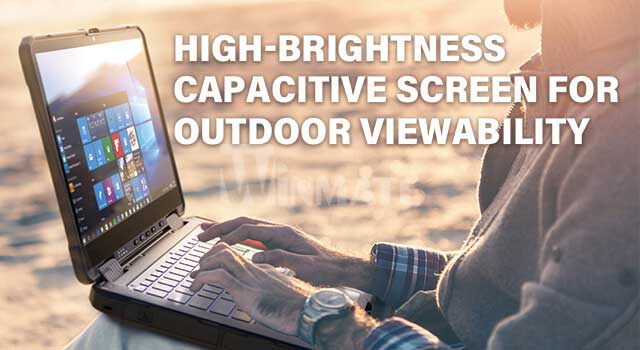 Always ready to go
The best and fastest tablets and laptops are useless if they break at the first work challenge. Winmate Rugged Laptop continues to operate in temperatures from -20°C to +60°C. They are rated IP65 to be reliably used in dusty and wet environments. Their durability has been tested according to the MIL-STD-810H for 4 ft drop, shock, and vibration.
Rugged computer devices are increasingly finding their way into all aspects of industry operations:
Field services:

field data capture, organizing work, tracking assets, materials, and equipment

Communication:

enables easy transfer of critical information between all personals

Processing:

condition monitoring and operations control
In workers' hands, Winmate Rugged Laptops transform operations by increasing their connectivity and making information more accurate and immediate. Reduce costs, faster response to changes, increase flexibility, and better decision-making.