Winmate Blog
Industrial Tablets Keeping Community and Officers Safe in New Heights
2022/04/15
Increase public safety and search and rescue efficiency with rugged industrial tablets and drones technology advancements.
Today, public safety personnel benefit from modern computer-driven technologies. It provides first responders with unprecedented coordination, safety, and efficiency by providing immediate aerial intelligence and guiding, rapidly and remotely identifying threats while keeping the response team safe, documentation, and many more.
Yet, most current drone systems have their controllers and use smartphones or consumer grade tablets as displays, which is unsuitable for public safety officers' mission-critical and challenging works.
Computer That is Tough for Public Safety
Commercial off-the-shelf solutions have apparent advantages, which are less expensive than customized rugged solutions and easy for mission operators to get on hand with less training. However, they also have disadvantages where stability and robust housing are critically needed. For example, screen size is an issue with GPS mapping, live view, and 3D image model applications. Those all require larger displays than a smartphone.
Moreover, rugged industrial tablets have extensive connectivity and I/O ports, and they are designed and created for complex missions. However, consumer grade tablets or smartphones usually have just one USB Type-C port or insufficient IO ports. Besides, the dedicated, rugged computers have been rigorously tested and certified to all sorts of defence standards, which provide housing protection and product longevity compared to consumer mobile devices.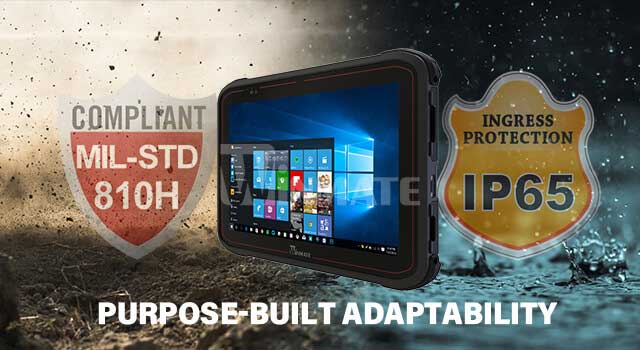 More Than Tough, It Also Must be Safe
A good design with solid and lightweight materials is critical too, and it can directly affect mission performance and success.
For industrial tablets, battery life and durability are the number one concern for mission operators out in the field. Optimizing battery power consumption, monitoring battery health and status, hot-swap design, and using the best possible batteries to sustain an entire mission are keys to extending operational hours.
Industrial tablets enhanced security to protect against unauthorized access. A wide selection of multifactor authentication options includes built-in fingerprint readers, radio-frequency identification RFID readers, smart card readers, a front camera for facial recognition, hardware-backed security solutions TPM 2.0, Kensington lock, etc.
Drones + Industrial Tablets = New Market Opportunity or Cost Effective Solution?
Opportunities in combining drone technology with ruggedized computing gear are pretty much unlimited.
For public safety and law enforcement, drones can help document crime scenes, communicate with remote suspects, find missing people, and assist with routine issues. Many examples integrate rugged industrial tablets and drone technologies in firefighting, forest services, inaccessible surveying areas, and remote mapping.
Port management and construction can benefit inspection, asset management, damage assessment, search and rescue, cargo stowage, and transportation.
Mining is another area with much potential. With the advent of depth-sensing and LiDAR cameras, drone-based systems can reach, assess, and survey dangerous areas. Geological, geophysical, and geochemical engineers likewise can significantly benefit from innovative uses of LiDAR and GIS-equipped drones in combination with powerful computing gear that can stand up to rough handling and harsh environments.
Also, there are many use scenarios in the defense, commercial, and emergency medical applications. Combining it with a rugged computer and all drone technology advantages creates unlimited opportunities. That wasn't possible before.