Winmate Blog
4 Essential Components of Waterproof Touch Panel
2022/04/29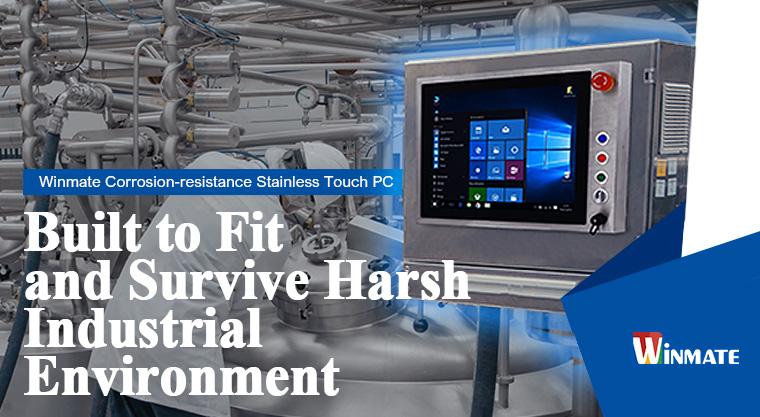 Industrial applications often involve dusty, greasy, wet settings that pose harm to electronic tools. Industrial sectors like automated mining, smart healthcare, food and beverage (F&B), and intelligent agriculture are involved in those extreme environments. Or thorough cleaning of the facilities and equipment to meet the safety and hygiene requirements. In some industries like healthcare and F&B, even chemical cleaning solutions are applied to remove tough stains and microorganisms on display. Hence, there are four "must" on rugged design components for the waterproof touch panel.
Durable Casing Made of Stainless Steel Material

The waterproof touch panel lasts longer with SUS 316 grade stainless steel housing, the most robust and corrosion-resistant metal available for the army, marine, chemical processing plants, and other harsh industrial requirements. This is due to the high nickel content and the inclusion of molybdenum in 316-grade stainless steel compared to SUS304.

Although SUS304 and SUS316 stainless steels' general mechanical properties are mostly comparable, the additional nickel content and molybdenum in grade 316 stainless steel have better chemical resistance than 304 stainless steel. Its ability to resist acids and chlorides, including salt, makes grade 316 ideal for chemical processing and marine applications, thus providing the device's optimal durability and longevity.

M12 Connectors

M12 connectors in a waterproof touch panel offer additional supreme dustproof and waterproof solutions. M12 connectors are rated from ingress protection rating IP65 up to IP69K. It also supports PoE (power over ethernet) for power and data transmission over a single cable, offering various benefits, such as cost savings, control, security, and reliability.

IP Rating – Protection Against Water and Dust

Ingress Protection rating or IP ranking is a shield measurement of dust particles and water ingress. The first digit on the IP rating signifies the degree of protection against dust bits that vary from 0 for no protection to 6 for dustproof. The second unit indicates the level of protection against water exposures, ranging from 0 to 9K for the most protection. This makes IP69K touch panel dust tight and protected against high temperature, high pressure water jet sprays from all sides in a close range. IP69K signifies defense against 80℃ water jet spray with around 1160-1450 psi pressure.

Optical Bonding Touch Panel

The touch panel production utilizes the optical bonding approach to ensure the waterproof panel PC's functionality in extreme environments. The key to the optical-bonding method is a thin layer of resin between the glass layer and the TFT panel to eliminate the gap. This makes the touch panel much brighter and increases touch accuracy and durability. Furthermore, a no-space between the glass and touch panel, making dust and moisture cannot enter the screen gap, which is excellent for waterproof application and optimal durability.