E430RM4L-4E
4.3" ARM A53 Rugged Handheld Computer
KEY FEATURES
ARM A53 - Quad Core
4.3" 800 x 480 resolution
Optional 1D/2D Barcode Reader
Support NFC function
IP65 waterproof and dustproof
Supports Android 7.0
Overview
Specification
Accessories
Powerful Computing Performance with ARM® A53 Octa-core CPU.
Gain high efficiency and versatility with the E430RM4L Rugged Tablet equipped with ARM® A53 Octa-core processor that delivers stable performance at a higher power efficiency level.
---
Built to Survive
Sealed to IP65, the E430RM4L rugged mobile computer is built to withstand harsh environments, protected against water and dust. Compliant with MIL-STD-810G, it can operate in extreme temperatures ranging from -20°C to 60°C (-4F to 140F) and endure shock, vibration, and 4-foot drops.
---
The Most Compact Rugged Solution for Mobile Workforce
Weighing only 260 grams, the E430RM4L is an ultimate compact pocket-size 4.3" rugged mobile computer for on-the-go real time communications, monitoring, and data capture.
---
Real-Time Data and Wireless Connectivity
Real-time data access to the right information is crucial for mobile workers. The E430RM4L offers WLAN, BT, GPS, and WWAN functions to enable robust communications anytime and anywhere. With a built-in 8.0 MP camera on the rear side, users can instantly capture photos, videos, and documents or utilize the front 2.0 MP camera for applications such as self-video recording or video communications.
---
Ultimate Data Capture Capabilities
With a built-in 1D/2D barcode reader, an 8 MP rear and 2MP front camera for data collection, the E430RM4L suits modern mobile workers and business applications and meets the IT requirements.
Projected Capacitive Multi Touch
ARM A53 (Quad-Core 1.3 GHz)
Default NFC (Read / Write, Peer to Peer mode)
Ambient Light Sensor, Acceleration Sensor, Automatic Screen Rotation
8MP Camera with LED Auxiliary Light (Auto Focus)
1 x Micro USB (support charging)
1 x Built-in Mic 1 x Speaker 1 x Receiver
1 x LED Indicators (Power, Battery)
5% to 95% RH, Non-Condensing
-10°C to 50°C (Battery mode)
MIL-STD-810G Method 516.6 Procedure I
MIL-STD-810G Method 514.6 Procedure I
MIL-STD-810G Method 516.6, 5 ft
IP65 Certified, Waterproof and Dustproof
1 x Volume +/- , 1 x Power Button, 1 x Function Button, 4 Capacitive Button (1 x Home, 1 x Menu, 1 x Esc, 1 x Search)
5V 1A Adapter with Micro USB
SOTI MobiControl Compliance
Universal Adapter Battery Hand Strap Micro USB Cable Micro SD Card
Charging Dock 2 bay Charging Dock 6 bay Battery Charging Dock 2 bay Battery Charging Dock 6 bay Vehicle Charging Dock Battery Leather Holster Lanyard Micro USB Host Cable
1D/2D Barcode Reader (Optional)
STANDARD ACCESSORIES
Micro SD Card
Model Name: MSD-16GB
Part Number: 76000000000V
Hand Strap
Model Name: HS-E430
Part Number: 9B0000000416
Hand strap to firmly grasp the device without having the fear of dropping it.
Micro USB Cable
Model Name: MUS
Part Number: 9487049050K0
This USB cable provides superior communication
OPTIONAL ACCESSORIES
Micro USB Host Cable (OTG Cable)
Model Name: MUS-OTG
Part Number: 9480058040K0
This USB Host cable provides OTG (On-the-Go) function acting as a host allowing a USB flash drive to be attached.
Charging Dock 6 Bay
Model Name: MD-E43R-6
Part Number: 98K004A0000I
PoGo Pin type charging slot
Power level LED Indicators
Supports multiple docking sets interconnected
Lanyard
Model Name: LY-E430
Part Number: 9B0000000317
Lanyard provides a secure feel when using your E430 series Rugged PDA while on the move.
Only support E430 Barcode and RFID series.
Universal USB Adapter
Model Name: PA1005-1SU
Part Number: 922Z005W05V1
Input: AC 100-240V 50/60Hz
Output: 5V-1A
Charging Dock 2 Bay
Model Name: DD-E43R-2
Part Number: 98K000A0003Y
PoGo Pin type charging slot
Power level LED Indicators
Supports multiple docking sets interconnected
Vehicle Charging Dock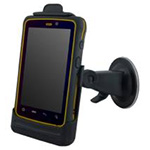 Model Name: VD-E430R
Part Number: 98D004A00001
Compliant with MIL-STD-810G Standard
9~36V DC-in with Terminal Block Connector
UHF RFID Reader
Model Name: 1862
Part Number: 9B000000007M
5m RFID reading range, 1.5m RFID writing range
BT V4.0 for pairing with user's mobile devices
IP64 water/dust resistant and 1.5M drop resistant
Easy configuration with powerful and value-added software
Leather Holster with Shoulder Strap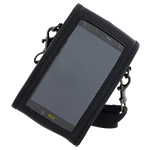 Model Name: SS-E430
Part Number: 9B000000002U
Leather case with vinyl screen protector and shoulder strap. Keeps the device free of fingerprints and dirt.
Holster for E430 series
Color : black
Battery Charging Dock 2 Bay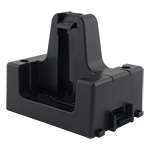 Model Name: BD-3900-2
Part Number: 98K004A0000G
PoGo Pin type charging slot
Power level LED Indicators
Supports multiple docking sets interconnected
Buzzer indicating the battery is inserted or alerting battery error state
Battery
Model Name: E430
Part Number: 32000000001K
3.7V 3900mAh Li-ion removable battery
Battery Charging Dock 6 Bay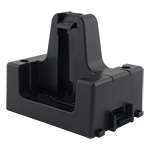 Model Name: BD-3900-6
Part Number: 98K000A0004G
PoGo Pin type charging slot
Power level LED Indicators
Supports multiple docking sets interconnected
Buzzer indicating the battery is inserted or alerting battery error state