EACIM20
A53 Quad-core Industrial IoT Gateway
KEY FEATURES
A53 Quad-core 2.0 GHz
Fanless cooling system Industrial IoT Gateway
4GB LPDDR4, 32GB eMMC
Compact size 100 x 70 x 31 mm (w/o mounting bracket)
Various mounting options: desk, wall, VESA, DIN­Rail
Microsoft Azure Certified for IoT
Support Android or Linux operating system
Extremely compact design with a fanless cooling system
The EACIM20 industrial IoT gateway has a compact design of 100 x 70 x 31 mm (one layer, without mounting bracket) made of metal housing to withstand industrial challenges. Its fanless design offers an optimized thermal solution for a reliable and long-lasting industrial technology. Deliver reliable operation in limited space, poor ventilation, dust-prone, and corrosive conditions.
---
Enable Seamless Edge to Cloud Integration
Winmate's EACIM20 industrial IoT gateway platform features a secure, seamless edge-to-cloud connection, and scalable computing performance based on an A53 Quad-core processor.
---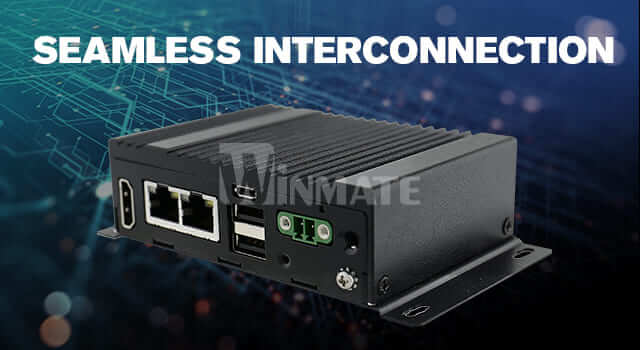 Comprehensive connectivity
EACIM20 gateway supports superior connectivity enabling seamless interconnection, ensuring interoperability between systems, enabling seamless edge-to-cloud connection, data aggregation, filtering, and data transmission. Easily collect data from a swarm of edge devices through a comprehensive I/O set and transmit it to the cloud over wireless communications.
---
Easy Mounting
EACIM20 IoT gateway offers easy installation and deployment with various mounting options such as desk, wall, VESA, or Din-Rail.
ARM A53 (Quad Core 2.0GHz)
SOTI MobiControl Compliance
Android 11 (Upgradeable to Android 13) Linux Yocto 5.10.104 with QT 5.15 (Optional) Linux Ubuntu (Optional)
Support for Android (Optional)
EACWSLT-231 3-port RS232/422/485 w/ isolation EACWSLT-232 16-Channel Digital I/O w/ isolation EACWSLT-233 2-port CANBUS w/ isolation EACWLST-234 3-port USB 2.0 EACWLST-235 2-port RS232/422/485 w/ isolation
100 (W) x 70 (H) x 31(D) mm(One layer) 100 (W) x 70 (H) x 61(D) mm(Double layer)
0.4 kg (One layer), 0.5 kg (Double layer)
Desk Mounting & Wall Mounting VESA Mounting (Optional) DIN-Rail Mounting (Optional)
30% to 90% RH, Non-Condensing
Operating, IEC 60068-2-27
Operating, IEC 60068-2-64
CE, FCC Microsoft Azure Certified for IoT
2 x USB2.0 (Type-A) 1 x USB2.0 OTG (Micro USB), support Android Debug Bridge (adb)
2 x Giga LAN RJ45 Connector for Linux 1 x Giga LAN RJ45 Connector for Android
1 x HDMI (Up to 1080p/30Hz) (Optional)
1 x M.2 slot 2 x USB Wafer
1 x LED Indicator for power
1 x 9~36V DC, 2-Pin Terminal Block
1 x Power Button 1 x Reset Button
Terminal Block 2 pin to 2.5Ø Female Adapter Cable Quick Start Guide Open Wire Cable WLAN External Antenna*2 (For WLAN sku) WWAN External Antenna*2 (For WWAN sku) BT External Antenna*1 (For BT sku)
AC to DC Adapter 12V/36W (Optional) VESA Mount Kit (Optional) DIN Rail Mount Kit (Optional) Micro USB to Type A Cable (Optional)
9V~36V DC, 2-Pin Terminal Block
EACIM20-100 Standard SKU EACIM20-101 with WLAN and BT SKU (Optional) EACIM20-102 with WWAN SKU (Optional) EACIM20-103 with WLAN, BT and WWAN SKU (Optional) EACWSLT-231 3-port RS232/422/485 w/ isolation (Optional) EACWSLT-232 16-Channel Digital I/O w/ isolation (Optional) EACWSLT-233 2-port CANBUS w/ isolation (Optional) EACWSLT-234 4-port USB 2.0 (Optional) EACWSLT-235 2-port RS232/422/485 w/ isolation (Optional)