FM12Q
12.1inch Android Car-mounted Computer with Qualcomm Snapdragon™ 660
KEY FEATURES
Qualcomm Snapdragon™ 660 octa­core, 2.2 GHz CPU
12.1" 1024 x 768 Panel with PCAP Touch, Android car mounted computer
Field replaceable front panel to reduce service costs
IP65 waterproof and dustproof vehicle mounted computer
Wide range -30ºC to 50ºC operating temperature
Overview
Specification
Accessories
Vibration and shock-proof design ensure reliable performance
When it comes to industrial usage, Winmate FM12Q that is rugged enough to survive harsh environments is a must. Its solid enclosure proves the FM12Q's durability with MIL-STD-810H certification and IP65 rating.
---
PCAP Touch Screen
The FM12Q features a compact panel with a PCAP touch screen. Resistant to dirt, debris, and highly sensitive touch commands make you enjoy every touch and convenience of using the device.
---
High-Performance CPU
To support the next generation of IoT edge devices, FM12Q has developed a new line of processors enhanced for IoT—Qualcomm Snapdragon™ 660 Series processors. These processors build on new levels of CPU, and graphics performances with integrated IoT features, real-time performance, manageability, security, and functional safety.
---
Reliable computing under extreme operating temperatures
Low-power components of industrial computers prevent overheating and are less likely to achieve high temperatures in the first place.
Projected Capacitive Multi Touch
400 nits 800 nits(Optional)
Support Hand, Stylus, Glove Mode
Qualcomm® Snapdragon™ 660 (Octa-Core 2.2 GHz)
Tablet: 307 x 225 x 41 mm Docking: 202 x 245 x 52 mm
Tablet 1.7 kg Docking 1.6 kg
1 x USB 3.0 Type C (OTG)(Tablet) 1 x DB9 Connector for 2 x USB 2.0 Port(Docking)
1 x Gigabit LAN port(Docking)
2 x Speaker(Docking) 1 x CANBus or 1 x Audio(Docking)
1 x Micro SD Card Slot(Tablet)
1 x Dual-Nano SIM Card Slot(Tablet)
3 x LED Indicator (WLAN, UPS battery, Heater)
5% to 95% RH, Non-Condensing
MIL-STD-810H Method 516.8 Procedure I
MIL-STD-810H Method 514.8 Procedure I
Support EN62262 IK07 Rating
Compliant with EN 61000-4-2, Enhanced ESD to ±8kV Direct & ±15kV Air
1 x Power Button, 5 x Function Button (Programmable Function Key Configured by Winset)
7.6V UPS Battery (2S1P) Minimum 30 minutes
Docking: 10V-60V with ignition control  Tablet: 12V DC In
SOTI MobiControl Compliance
5M Power Cable with Fuse Kit 0.3M USB Cable 0.15M Power Converter Cable DC Jack Power Cable 84W Adapter with power cable Cable Clamp Kit Wi-Fi Antenna x 2 Quick Start Guide External Antenna Fixing Bracket Dock + Latch Locking Key Stylus Kit + Screw
1.8M RS232 Cable 0.3M Audio Cable 1.8M CAN BUS Cable 1.8M CAN BUS Open Wire Cable 2M IP65 LAN Cable GPS & LTE 2M Combo Antenna(VM240) GPS & LTE 5M Combo Antenna (VM9C) Magnetic Combo Antenna (VM10S) WWN Antenna HDMI Adapter
STANDARD ACCESSORIES
Clamp Kit
Model Name: CLA-FM
Part Number: 9B000000007G
USB cable
Model Name: USC
Part Number: 9483098080K0
0.3m D-Sub 9 USB connector on dock to two standard USB host connectors
Power convert cable
Model Name: PCC-FM
Part Number: 94J602G030K2
Terminal block to adapter convert cable
External Antenna Fixing Bracket
Model Name: EAB-FMD
Part Number: 88111T201203
Firmly fixing the position of external antenna
Fuse Kit
Model Name: FK-FMD
Part Number: 94JL01L01000
Wi-Fi Antenna
Model Name: WFA-FMD
Part Number: 397SM000000O
dual band Wi-Fi antenna – attached directly to dock
Stylus Kit + Screw
Model Name: SS-FM1
Part Number: 98K000A00076
Key for Vehicle dock
Model Name: KD-FMD
Part Number: 9B000000007N
To secure the device on the vehicle
Adapter
Model Name: EA10951C
Part Number: 922D084W12V1
84W Adapter with power cable
DC Jack Power Cable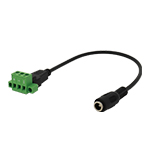 Model Name: DCC-FM
Part Number: 94J602G030K2
Power cable with Fuse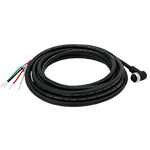 Model Name: PWC
Part Number: 98K000A0006O
5m DC Power cable straight connector
OPTIONAL ACCESSORIES
LTE MIMO/GNSS
Model Name: VM240
Part Number: 39700000000M
3 in 1 Adhesive Mount Combination Antenna
Magnetic Multi-Band Combo Antenna
Model Name: VM10S
Part Number: 397SM0000006
GPS & LTE MIMO Combo Antenna
Model Name: VM9C
Part Number: 397SM0000008
GPS & LTE MIMO Combo Antenna
GPS Antenna
Model Name: GSA-FM
Part Number: 397SM000000N
HDMI Adapter
Model Name: TC-HDMI
Part Number: 9AN000000012
USB-C to 4K HDMI Adapter
USB-C Cable: 5.5 in./14.5cm
CAN Bus Open Wire Cable
Model Name: CW-FMD
Part Number: 94E215L030K0
WWAN Antenna
Model Name: WWA-FMD
Part Number: 397SM000000T
WWAN antenna for higher accuracy - attached to the dock
RS232 Cable
Model Name: RSC
Part Number: 94G4094090K1
1.8m standard 9-Pin male com port cable
CAN Bus Cable
Model Name: CC-FMD
Part Number: 94E2150090K0
1.8m This cable connect the D-Sub 15 dock connector to a standard CANbus connector. Audio and CANbus share the same connector on the dock.
D-Sub 15 to 9 pin Female SAE J1939 and 9 pin Male SAE J1939
LAN Cable
Model Name: LN-FMD
Part Number: 94I0080080KQ
Audio Cable
Model Name: AC-FM
Part Number: 94E215R060K0
Dsub 15 pin to Audio out cable