I330EAC-IE3
Intel® Pentium® N6415 Marine Computer
KEY FEATURES
Intel® Elkhart Lake Pentium® N6415 Processor Dash panel PC
9~36V DC Power input acceptable
CERTIFICATIONS
Robust Performance with Intel® Elkhart Lake Pentium® N6415 Processor
Equipped with the Intel® Elkhart Lake Pentium® N6415 Processor, the marine computer delivers exceptional computing performance for marine applications. With a powerful quad-core processor and advanced graphics capabilities, this processor ensures smooth multitasking, efficient data processing, and seamless visualization of critical marine data. The marine computer enables real-time monitoring, navigation analysis, and comprehensive system control, enabling operators to make informed decisions quickly.
---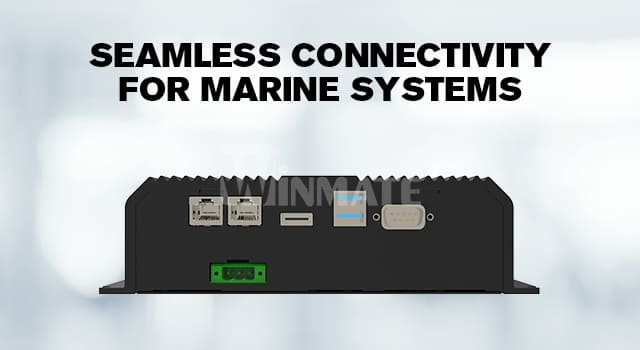 Seamless Connectivity for Marine Systems
The Intel® Elkhart Lake Pentium® N6415 Processor marine computer offers a range of connectivity options, allowing seamless integration with various marine systems and devices. With interfaces such as Ethernet, USB, RS232, and RS485, the marine computer can connect to radar systems, GPS navigation tools, communication equipment, and other essential marine instruments. This connectivity empowers operators to have centralized control, efficient data exchange, and streamlined communication, enhancing overall operational effectiveness.
---
Flexible Power Input
The marine computer supports a flexible 9~36V DC power input, making it compatible with different marine power systems. This feature ensures reliable operation even in fluctuating power conditions commonly encountered in marine environments. With its wide input voltage range, the marine computer can withstand power fluctuations and maintain uninterrupted performance, contributing to the overall reliability and stability of marine systems.
Intel®Pentium® N6415 (1.5M Cache, up to 3.0GHz)
1 x SO-DIMM, DDR4 3200 MHz, 4GB 8GB (Optional) 16GB (Optional)
1 x M.2 2242 B-key SSD 256GB 512GB (Optional)
2 x Intel® Ethernet Controller
Windows 11 IoT Enterprise SAC (64 bit) (Optional) Windows 10 IoT Enterprise (64 bit) (Optional) Linux Ubuntu 22.04 (Optional)
2 x USB3.2 Gen1x1 (Type-A)
2 x RJ45-10/100/1000 Mbps
24V DC-in with Isolation (Approval by Certificate) 9~36V DC Input Acceptable
Driver CD & User Manual AC to DC Adapter 12V/ 50W Power Cord 3 pin Terminal Block to DC Jack