Overview
Specification
Accessories
---
IP65 rating and MIL-STD-810H Suitable for Public Safety and Defence application
The L140TG-4 rugged Laptop can go wherever you go, thanks to an IP65 rating and MIL-STD-810H shock, drop, and vibration testing. The L140TG-4 is tough enough to withstand repeated drops, extreme temperatures, altitudes, humidity, and water and dust exposure, suitable for Public Safety and Defence application.
How to Choose the Best Rugged Laptop for Tough Jobs
Portability can be a deal-breaker for tech. No one wants to haul a ponderous computer around all day. But additional protection adds weight; if a large screen size is essential for your work, this will add ounces. On-field teams like Defence and public safety personnel need a lightweight, functional, portable, and rugged laptop.
Winmate Rugged Laptop offers durability that regular computers do not provide. From frequent bumps and drops to operating in hazardous environments, our powerful laptop computers keep the labor force, social protection, and industrial companies operating comfortably. It is also possible for rugged laptop computers to withstand rainfall, shock, dirt, and vibration, all while keeping you secure and connected. The Winmate L140TG-4 gives you 14 inches of screen space, IP65, and MIL-STD-810H toughness at 5.6lbs (2.55kg). That's pretty light for a rugged laptop of this size.
---
Greater comfort
The computer features a 14-inch daylight readable panel 1920 x 1080 with direct optical bonding, outdoor viewable, and a brilliant user-friendly projective capacitive touch screen. The L140TG-4 Laptop is designed to make work less laborious and seamless. Its new and brighter FHD 14-inch display with optical bonding technology can support daylight readability. Also, equipped with diverse touchscreen modes, including fingertip, pen, or glove, and configurable multi-touch gestures for faster access to commonly used Windows features and functions. Work everywhere, with tablet or laptop all in one device.
---
Full-scale QWERTY Layout keyboard
The L140TG-4 Laptop's keyboard is an 80-key spill-resistant design with a full-scale QWERTY layout. The keyboard itself is top-notch. Black keys are marked with large white letters and symbols with backlight, and there is excellent tactile feedback.
---
Hot-Swappable battery design for uninterrupted operation in the field
Long battery life: Hot-swappable Dual Batteries provide continuous power, so you're ready for the day shift, night shift, and everything in between. Power and long battery lives are needed for remote or on-site works. There's nothing worse than running out of power mid-task in the field, with no plug sockets for miles. Dual-battery designs give you enough capacity for a full day of work. Power-save modes and dimmable LCD screens save power. But the ability to swap batteries is a game-changer.
The Winmate L140TG-4 has hot-swappable dual batteries. So you can switch when power gets low. This keeps you moving even when off-grid. And if you find the mains, you can charge one battery while you work from the other.
---
Expect More from Your Enterprise Mobility Computers
Whatever your work, analyze vast datasets, render designs, transfer files, etc. It would help if you had a fast processing speed. Winmate Rugged Laptop L140TG-4 comes with an Intel® Core™ Tiger Lake quad-core processor with speeds of 2.40GHz up to 4.20GHz will suit most tasks. Upgrade RAM as needed: 8GB, 16GB, and 32GB to increase work efficiency.
Wide Connectivity options
At the same time, wireless connectivity options include Wi-Fi and BT support, GPS / GLONASS, and 4G LTE (optional) to keep workers connected in even the most remote locations. High-speed WIFI and 4G LTE will keep you connected everywhere. Furthermore, logistics, Defence, and vehicle-mounted industries can use GPS to locate personnel or map directions.
Keep Your Data and Device Secure
Whether you work in healthcare, logistics, media, or any other industry, you will want to keep your data private. Without proper security, you risk your sensitive data. Winmate Rugged Laptop has encryption, secure locking, and Trusted Platform Module (TPM). The latter, TPM, secures your hardware with cryptology. This ensures safety from unauthorized access to your hard drive. A Kensington lock prevents physical theft of your device. This anchors your laptop to a table or secure point with a cable looped through a security slot. Simple but effective. Professionals have used it since the mid-1980s.
Encrypted removable solid-state drives (SSDs) add another layer of protection via physical compartmentalization.
---
Smart Card reader and Removable SSD
Flexible optional storage: critical store data and optional 2nd removable M.2 solid-state drives (SSD) for up to 4TB of total storage.
---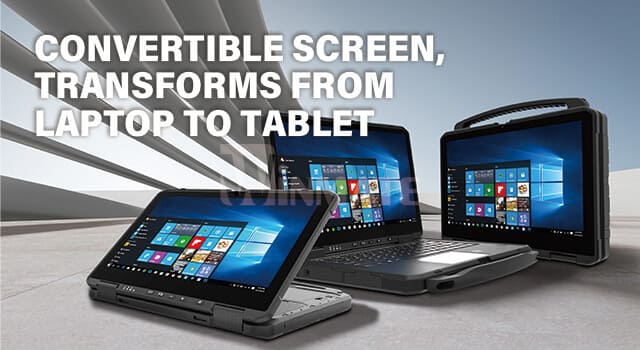 Flexibility & freedom
Flexible dual hinges allow the L140TG-4 to transform from a laptop into a tablet computer. They are stiff enough to prevent the screen from wobbling when you tap on the glass, yet flipping the panel around to transition into tent or tablet mode doesn't require much force. It strikes the right balance between sturdy and practical.
Choosing the toughest one can be a great work investment as we use them every day. As you wish that your laptops, tablets, and mobile devices can handle any task you throw at them, from public safety to transport to food and hygiene, we supply tough tech tools so you can get the job done.
If you have any questions about Winmate products, don't hesitate to contact us now.
---
✓

Disclaimer:
Accessories and Integrated Options may vary depending on your configuration.
Total usable memory and storage will be less dependent upon actual system configuration.
The actual transfer speed will vary depending on many factors, including the processing speed of the host device, file attributes, and other factors related to the system configuration and your operating environment.
The USB Type¬C connector follows USB 3.0 standard, which does not support Alternate Mode (ALT) or USB Power Delivery (USB¬PD).
The battery life is measured at dimming LCD brightness. Depending on the usage conditions or when an external device is attached, it varies.
The 2D drawing is a simplified drawing, and some components are not marked in detail.
Length measurements do not include protrusions. Weight varies with options.
TPM 2.0 is available upon request.
SOTI is available upon request.
The product shown in this datasheet is a standard model. For diagrams containing customized or optional I/O, don't hesitate to contact the Winmate Sales Team for more information.
Projected Capacitive Multi Touch
Optical Bonding for Sunlight Viewability
Intel Core i5-1135G7 2.4GHz (up to 4.2GHz)
8GB DDR4 SDRAM 16GB DDR4 SDRAM (Optional) 32GB DDR4 SDRAM (Optional)
256GB M.2 SSD 512GB M.2 SSD (Optional) 1TB M.2 SSD (Optional) 2TB M.2 SSD (Optional) Additional storage available with up to 2TB M.2 (PCIe NVMe) SSD, self-encrypted. (Optional)
Smart Card Reader (Optional)
Trusted Platform Module (TPM) 2.0 Kensington Lock
Windows 10 IoT Enterprise LTSC (64 bit) Windows 11 IoT Enterprise SAC (64 bit) (Optional)
4G LTE (Optional) 5G (Optional)
HF RFID reader 13.56 MHz (Optional)
Fingerprint scanner (Optional)
8MP rear camera with autofocus and LED light (Optional)
3 x USB 3.0 (Type A), 1 x USB 3.0 (Type C)
1 x RJ45-10/100/1000 GigaLAN port
1 x HDMI 4K Output (Optional)
1 x Audio combo 3.5mm audio combo jack Dual Digital Mic With Noise Cancellation Dual Speaker
1 x Expansion slot for smart card reader and removable SSD (Optional)
4x LED Indicator for Power, Battery, HDD, RF status
10% to 90% RH, non-condensing
-20°C to 50°C (AC mode), 0°C to 40°C (Battery mode)
MIL-STD-810H Method 516.8 Procedure I
MIL-STD-810H Method 514.8 Procedure I
MIL-STD-810H Method 516.8, 3 ft
MIL-STD-461G CE101, CE102, RE101, RE102, CS118 (Default) MIL-STD-461G CS101, CS114, CS115, CS116, RS101, RS103 (Optional)
SOTI MobiControl Compliance
1 x Power, 2 x volume key, 2 x Programmable Function Keys QWERTY keyboard with RGB backlight
Hot-swappable 2 x 10.8V typ. 2400 mAh Li-Ion Battery (3S1P)
Standard Battery: 8 hours
100-240V, 50-60Hz (19V DC)
Adapter and Power Cord Standard Battery
Spare Battery (Optional) Battery Charger (Optional) Vehicle Charger (Optional)
STANDARD ACCESSORIES
Standard Battery
Model Name: BTL140
Part Number: 98K000A000H2
10.8V / 2400 mAh Li-Polymer Battery, 3S1P
With LED indicator to show battery capacity
Adapter and Power Cord
Model Name: A065R193P
Part Number: 9220065W19V1
100-240VAC to 19VDC@3.42A
Country specific power cords available
OPTIONAL ACCESSORIES
Battery Charger
Model Name: BC-L140
Part Number: 98K000A000H5
Dual-bay charging dock
Power level LED indicators
Buzzer to indicate battery is inserted
Carry Bag
Model Name: CB140
Part Number: 9BN00000007I
With Hand Carrier and Shoulder Strap
Separated pocket for accessories
Vehicle Charger
Model Name: VCG-M101
Part Number: 9226065W19V0
11~24V DC IN
19V/ 3.42A DC OUT