W42L300-OFA3
42" Open Frame Display
Discontinued (EOL)
The W42L300-OFA3 has been phased out and replaced by the W43L300-OFA1. For more information, please get in touch with us.
KEY FEATURES
42", 1920 x 1080
VGA and HDMI input
Open frame
VESA mount
CERTIFICATIONS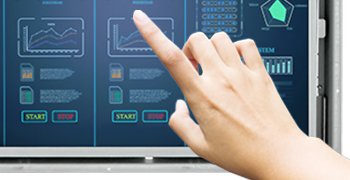 Optional Resistive Touch / Protective Glass
The display is highly resistant to cold temperatures, wet fingers, and dusty conditions. Plus, the protective glass serves to protect the display against sharp foreign objects, meaning the screen is still operable even with deep scratches on the surface.
---
Low Power Consumption
This display is designed for low power consumption and effective heat dissipation, making it durable for long-term usage in production facilities. It is the ultimate energy-efficient solution.
---
Rear and VESA mounting
Several mounting solutions such as rear and VESA mounting allow users to choose the most suitable mounting options for their application.
10% to 90% RH, Non-Condensing
1 x USB for Touch Screen (Optional)
1 x VGA 1 x HDMI (Optional) 1 x DVI (Optional)
Audio line in (3.5mm) (Optional) 2 x Speaker (Optional)
1 x VGA cable 1 x HDMI cable 100~240V AC to DC Adapter Power Cord Manual VESA screws(Varies by product)
Remote Controller (Optional,Varies by product)
5 Keys: - , + , Power , Esc , Enter