Marine Solution
Overview
In maritime activities and naval forces, rapid, reliable, and durable technology are mission-critical. Winmate offers marine products that feature industrial-grade design and undergo rigorous testing beyond military standard compliance to ensure safety and performance. The innovative Marine Panel PC, Display, and EAC Box PC deliver power, peripheral connectivity, and the ability to control and power multiple devices at once while meeting marine equipment standards DNVGL-CG-0339, IEC60945, and IACS E10.
Our Marine PPC, Display, and Edge computing devices include:
Marine Edge Computing
ECDIS Marine Panel PC with DNV Standard Certification
For over 25 years, Winmate Inc.- has a long track record in the Marine Market, providing robust and reliable solutions for our customers and partners. We are the preferred supplier of Marine Computers and Marine Displays for leading OEMs in the marine market and provide solutions for ECDIS and Radar and Automation and communication applications. The robust yet elegant designs and years of experience developing marine electronic solutions make Winmate Inc. the leader in this field. We also strive to provide excellent availability of our products, acknowledging our customers' need for on-time delivery and long-term availability. In the design phase, we carefully select our components to secure an extended build state – further, we have a system to handle EOL issues to our customers' benefit. Our things use the advantages of paperless and also filmless interaction in the mission-critical treatment, plus all item solutions guarantee top professional quality (MARINE GRADE CERTIFICATIONS). Winmate Inc. has gotten particular respects, such as the "Taiwan Excellence Award 2021" in the Ultra Rugged tablet computer system compilation.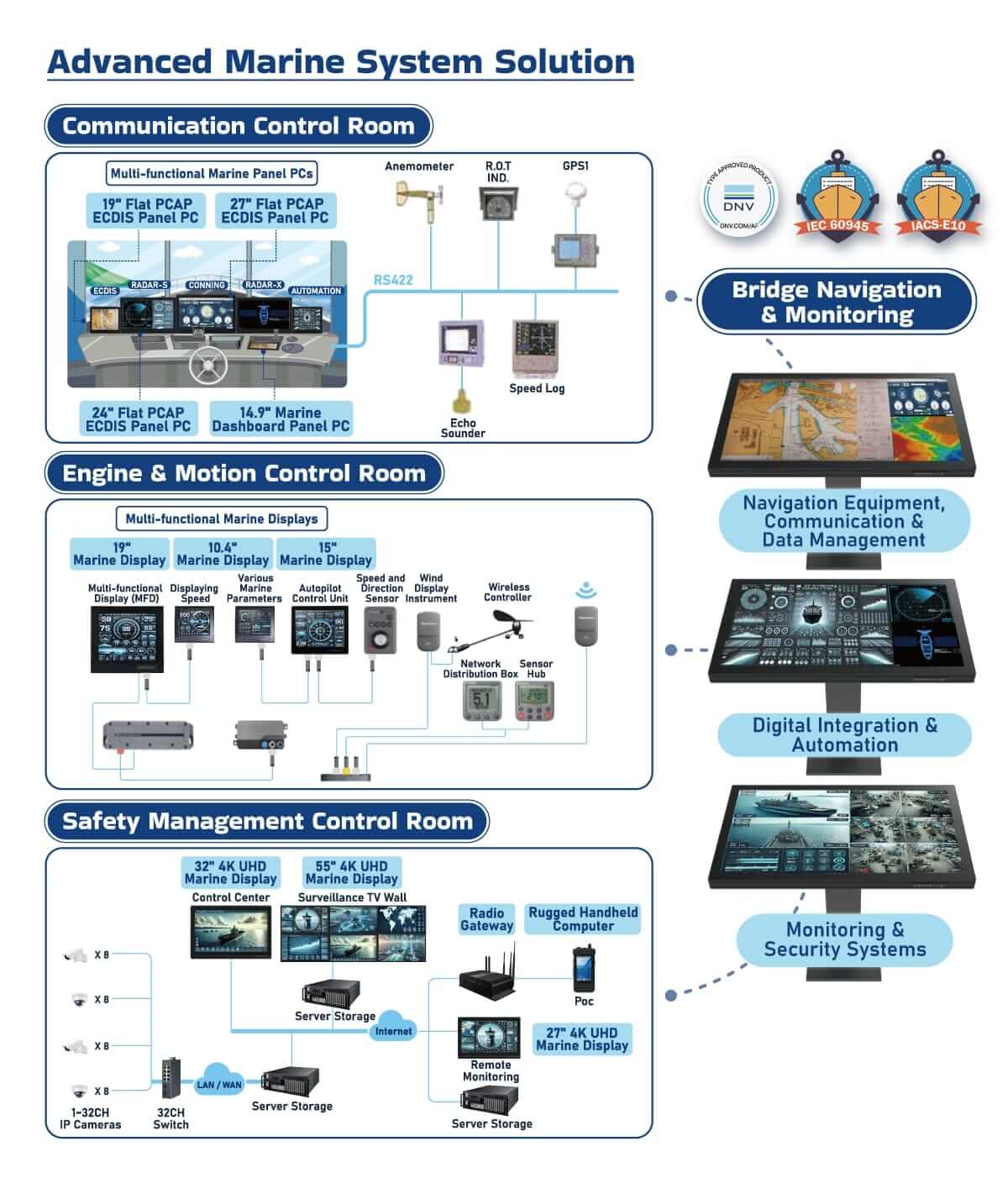 Industrial Challenges
To meet the marine industry's regulatory requirements, Winmate offers certified solutions for shipping navigation, monitoring and surveillance, and ship automation systems. Winmate understands the needs of the marine industry and provides solutions to industrial challenges:
Extreme environments

Marine equipment faces extreme environments such as temperature changes, strong vibration, water drops.

Accurate chart depiction

An accurate chart displaying is crucial in maritime applications.

Day, night and dusk

On-board computers must provide viewability in day, night, and dusk conditions.
Innovative Technology
All Winmate marine products are built and tested according to DNV 2.4 Standard, IEC60945, and IACS-E10.
Winmate reliability tests ensure optimal performance in harsh maritime environments.
Powder-coated aluminum housing feature anti-corrosion protection, handle significant vibration and shock and operate in high humidity.
Enhanced panel viewability and backlight intensity.
Transflective screen or a high brightness display.
Dimmable backlight.
ECDIS color calibration to accurately display navigational charts.
Safety and Standards
All Winmate marine products are built and tested according to DNV 2.4, IEC60945, and IACS-E10.
DVN GL is an autonomous and independent foundation with the objectives of safeguarding life, property, and the environment at sea and onshore. DNV certification related to ships' quality, offshore units, and installations of the system and components. DNV Requirements are harmonized with IACS Unified Requirements E10 and IEC publication 60945.
International Association of Classification Societies (IACS) is an organization that provides technical support and guidance for promoting the safety of life, property, and the environment through the verification of compliance with technical and engineering standards for the design, construction, and life-cycle maintenance of ships, offshore units and other marine-related facilities.
Equipment wished to be used in navigation and radio communication systems is to comply with IEC Publication No. 60945, "Maritime navigation and radio communication equipment and systems – General Requirements- Method of testing and required test results."
ECDIS Color Calibration
The Winmate Marine Displays and Panel PCs can be adjusted today, dusk, or night mode to accommodate any lighting situation. The CIE x, CIE y, CIE z are measured from 63 color tokens per mode (Day, Night, and Dusk). These color settings are calibrated at the factory to achieve accurate color reproduction referred to by the IEC 61174 Standard. In the ECDIS-color calibrated models, quick function keys allow instant brightness adjustment to any three modes.