What is this technology?
Following different demands of products in Winmate, we can assemble and mount all kinds of products by the same production line. Our employees' core competence is high skills and professional teamwork for mounting the hundreds of different models in small, medium, and mass quantities. The modularized manufacturing procedures from production to shipping are accomplished in the shortest possible time. However, the flexible mass output can fulfill longtime reliable demand for high-quality products made in Winmate.
Technology/ Function Diagrams
Ⅰ. Assembly Line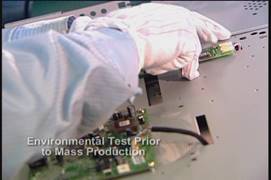 Ⅱ. Testing Product Line
Ⅲ. Clean Room
Benefits
Flexible and fast for adjustments in priority changes.
Low cost, High performance for customized demands.
Optimized for high and continuous quality over long product life.
Applications
Industrial/Factory Automation
Human Machine Interface (HMI)
Transportation system
Gaming/Lottery/Slot Machines/Player Tracking
Digital Signage
POS/KIOSK